Snowboarder Kimmy Fasani on Backflips + Amusement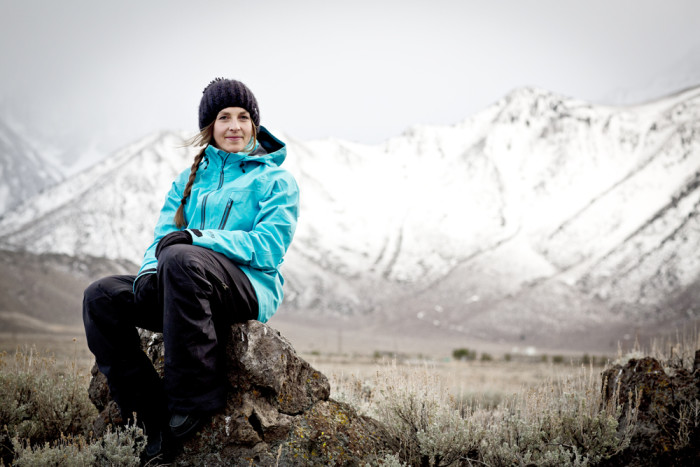 Kimmy Fasani is good at being first. Hard work, passion, and pure talent have driven her to claim several covet-able firsts in women's snowboarding.
In 2011, Kimmy became the very first female snowboarder ever to land a double backflip in both the park and the powder—a landmark achievement in the history of women's snowboarding.
And, in August of 2012, Kimmy was the first woman in five years to grace the cover of Transworld Snowboarding magazine. In addition, she is only the fifth woman ever to appear on the magazine's cover.
Then, in 2013, while Kimmy was recovering from a knee injury, she hosted a landmark women's event at Mammoth Mountain, her home mountain. The groundbreaking Amusement Park is an annual all-women's park photoshoot supported by Kimmy and Mammoth.
This year marks the third annual Amusement Park photo shoot, held at Mammoth Mountain April 25th-28th and presented by BurtonGirls.com. Fifteen of the top female riders this season will be joining Kimmy in a private photo shoot that celebrates women's progression in snowboarding. The ladies will be taking over Main Park at Mammoth Mountain, with evening sessions on a jump designed to push their skills. Amusement Park will continue to offer a one-of-a-kind opportunity for the top female pros to show the world what they can do.
As part of Amusement Park, Burton Girls will also host a free women's Ride Day on Saturday, April 25th at Mammoth Mountain. Female riders of all ages are invited to come out to meet and take some spring turns with Burton team riders Kimmy, Kelly Clark, Chloe Kim, and more. The event will start with complimentary morning yoga hosted by Lulu Lemon and brunch at Mammoth's Main Lodge, followed by riding time with the pros. Get more information and register here.
Love this lady yet? We sure do. Here, we sit down with Kimmy to learn more about her firsts, the beauty of Amusement Park, coping with fear, and her organic sweet tooth.
WomensMovement.com: Snowboarding accomplishment of which you're most proud?
Kimmy Fasani: I'm most proud of my Cover with Transworld Snowboarding Magazine. Being only 1 of 5 girls to ever have a cover with that magazine is a huge honor.
WM: Favorite thing/biggest passion with snowboarding today?
Kimmy Fasani: I'm constantly inspired by how much progression is taking place in snowboarding. Seeing all the creativity, style, and exploration with how snowboarding is evolving is awesome and I am very grateful to call this my career.
WM: How much training + time went into nailing the first women's double backflip?
Kimmy Fasani: I spent some time visualizing the trick before I did it in the back country. I landed it on my 4th try. When I did the trick in the park at Mammoth Mountain I spent a couple hours in trying the double backflip into a foam pit because I wanted to make sure I knew my rotation. Park landings aren't as forgiving as powder. I landed the double backflip my first try in the park.
WM: How do you cope with fear (especially surrounding big tricks or scary lines)?
Kimmy Fasani: Fear is an emotion and it can take over your mind it you allow it to. I try to acknowledge my fears, figure out if I am in true danger or just nervous. I have found that if I focus on being in the moment, I am able to detach from my fears for the most part. Being conscious of my actions and calculated with my decision making also helps with that.
WM: Favorite place you've ever snowboarded?
Kimmy Fasani: I love spending time in the Eastern Sierras. This is where I live and there are so many amazing mountains to explore. Internationally I love the Alps because they are so big and ominous. I also really enjoy Japan in the early season because the snow quality is unlike anywhere else.
WM: Most memorable shot or thing that's ever happened at Amusement Park?
Kimmy Fasani: The first year of Amusement Park, I was not able to ride because of an injury, but Mammoth Unbound built a really large 70+ foot jump. Watching the ladies hit that feature and progress their tricks was really inspiring. Last year Anna Gasser was trying a front side 1080, which was impressive and so stylie.
WM: We love your full, busy snowboarding career. Why launch an organic bakery?
Kimmy Fasani: My friend Mimi Kurz and her husband Delaney Council wanted to open a bakery store front in Mammoth Lakes, CA for their online bakery, www.mimiscookiebar.com. They approached my husband, Chris Benchetler, and I to be part owners in the Bakery. We loved their idea and they had a really strong business plan, plus we have a big sweet tooth- so it was a perfect fit! We were excited to bring Mimi's Cookie Bar to our community and it has filled a niche Mammoth needed. Mimi's Cookie Bar is doing great and we have had steady growth since we opened in 2011.
WM: Fav treat right now from Mimi's Cookie Bar?
Kimmy Fasani: I love the new sandwich cookies or the Vegan and Gluten Free Chubby Dougy cookie, which is twist on a snickerdoodle cookie. My biggest weaknesses are the French Macaroons though!
WM: Fav date with your hubby?
Kimmy Fasani: Every year for our anniversary we go on a big rock climbing adventure. Last year we scrambled up the back of Cathedral Peak in Toulumne, which was incredible and very beautiful.
WM: Snowboarding goals today?
Kimmy Fasani: I'm just focusing on having fun, pushing myself in the backcountry, and staying healthy in doing so. Next season I would love to spend some time riding big lines in AK or BC.
Kamagra oral jelly Online something to buy the most convenient way. He doesn't demand from you any actions except how to visit the website. And in separate with goods necessary to you to put the end. To specify your address and to wait for the supplier to whom you will give money.