Women's Flyfishing Gear Gets Real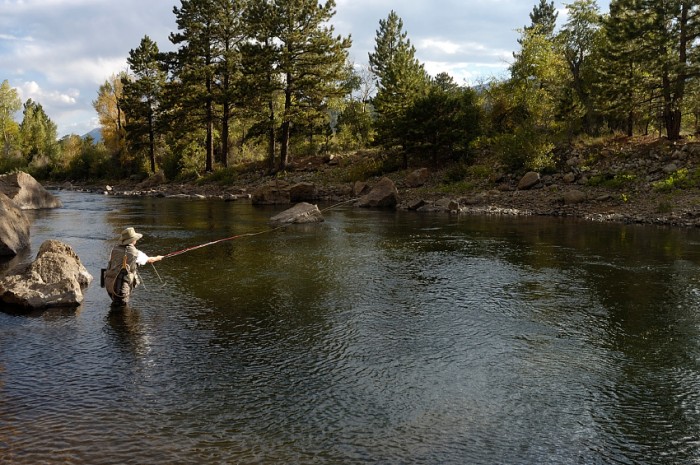 Three fly-fishing companies—Orvis, Redington, and Patagonia—are significantly ramping up their women's offerings: Orvis launched new women's waders this summer, while Patagonia and Redington pieces hit stores next spring. All together, it's a veritable explosion of women's gear, given how limited ladies' fishing equipment has been in the past. Only 24 percent of all anglers are women (according to the Sports and Fitness Industry Association). So why the sudden rollout in girly waders, boots, and clothing?
"We'll build a market," explains Patagonia's Yvon Chouinard, who doesn't expect to sell vast numbers of his new women's pieces. Fishing is still a male-dominated sport. But women's participation has grown substantially over the past five years, and companies realize that if they can woo more people to the sport by reaching out to untapped demographics, they can sell more gear overall.
That's great news for gals who already fish, since many of the new options are high-performance models rather than dumbed-down pieces aimed at the never-ever crowd. But it also means that newcomers will find a range of fit options that could sweeten their introduction to the sport. Here are a few of our favorites:
Orvis has offered women's waders for a while, but "They weren't very good," admits Marketing Director Tom Rosenbauer. So for 2013, the company went back to the drawing board and consulted a slew of female fishing guides to dial in the fit. Then they applied the company's SonicSeam technology (a top-shelf process that welds seams instead of stitching them) and four-layer construction for go-the-distance durability. The resulting Silver Sonic Convertible-Top Waders ($259) are something any rod-wielding woman would be proud to wear.
Testing them on Colorado's Yampa River, we found the fit to be superb. Instead of enclosing our thighs and backside in an unflattering balloon, these waders create a trim, low-bulk silhouette that still allows for full freedom of movement. They come in three lengths—petite, regular, and tall—and breathability is surprisingly good, given the thick, rugged fabric.
Redington also has a tradition of building women's gear, but pulled out all the stops with the Siren Wader ($220) and Siren Boots ($140). The waders actually come in two fit profiles: The "Kate" (tailored to slim figures), and the "Marilyn" (which accommodates full hips and extends to size 14-16). And the boots may be the first-ever piece of fishing gear that deserves to be called "cute." With snazzy red laces, they look more like sneakers than cobble-hoppers, but grippy soles (available in either sticky rubber or felt) provide traction, and molded rubber overlays protect feet from bruising boulders.Patagonia has earned respect among male anglers for its high-performance fishing pieces, and spring 2014 marks its first-ever line of women's gear: The Spring River Waders ($399) and the River Salt Jacket ($349) are the standouts, but there's also a range of fishing-specific shirts and bottoms, such as the Sunshade Hoody ($69) and Away From Home Pants ($89, ideal for wet-wading or rowing a drift boat).
"Women want something that looks good," says Kim Brannock, who designed Patagonia's women's fishing line (and is an angler herself). But along with feminine styling, the company built in features that meet women's particular needs (the waders, for example, feature a drop-seat function that lets ladies pee more discreetly). And when functionality like that joins forces with great fit, women get a real winner.
Kamagra oral jelly Online something to buy the most convenient way. He doesn't demand from you any actions except how to visit the website. And in separate with goods necessary to you to put the end. To specify your address and to wait for the supplier to whom you will give money.