She Ventures: Female Motivational Speakers

Login to Instagram or Facebook, and the influential female adventurers who are leading the industry of outdoor-adventure-travel are setting mega precedents. Pro skier Kalen Thorien–featured on Womens Movement in 2013–ultrarunner Krissy Moehl, and pro Snowboarder Kimmy Fasani, to name a few.
On the broader scale, women comprise half of the entire population of participants in the outdoors, and those numbers have rested at the fifty-fifty mark since at least 2007, according to the Outdoor Foundation's most recent August 2016 report.
Herein lies the issue: all achievement and participation aside, women still fall below that halfway mark in the outdoor industry's decision-making roles, leadership status and in media direction.
As the cultural shift continues, entrepreneur Georgina Miranda—who authored a recent article with the aforementioned stat and sentiment—is on the forefront to help.
Miranda founded the She Ventures motivational speaking tour, set to launch this month. Offering a motivational, educational stage, communities can now hear directly from the inspirational female leaders, adventurers and founders who are impacting the outdoor and adventure travel industry.

"The idea of an 'adventurer' is still largely associated with men…we are changing the face of adventure, one city at a time, simply by coming together. She Ventures is to inspire women to live the most adventurous version of their life—whatever that means to them—on every level of the spectrum," said Miranda.
As the owner of Altitude Seven—an adventure lifestyle media platform that aims to inspire women—the event goes hand in hand with Miranda's community efforts.
The pilot program sold out in three days last June, to a Bay Area audience of hundreds, and featured an impressive lineup including Hipcamp, The Camp Kit and Trail Mavens.
A central aim of the gathering is to authentically introduce women of shared passions. And audience seats are open to anyone involved in the outdoors—men, and non-outdoor industry professionals, too—welcoming all ability, skill and interest levels.
Each eve will feature engaged, badass speakers. Alissa Sears, Co-Founder of adVentures Academy, a hands-on adventure training program for entrepreneurs and investors. Jen Gurecki, Founder of Coalition Snow: the world's first ski and snowboard company specializing in skis and snowboards designed by women, for women. Kim Kirchner, the first female head of ski patrol. And countless others.
"This event is incredibly inclusive. Whether you're entrenched in the outdoor-adventure-travel industry or just a casual bystander, She Ventures is relevant and engaging, because it focuses on real women who are doing all sorts of things, from running their own business, to competing professionally, to supporting non-profits that get more girls and women outside," said Gurecki.
The upcoming tour kicks off in Vancouver followed by stops in Seattle, Portland, New York and Boulder between September 20 and October 27.
Dive into details and tickets at http://www.sheventures.co.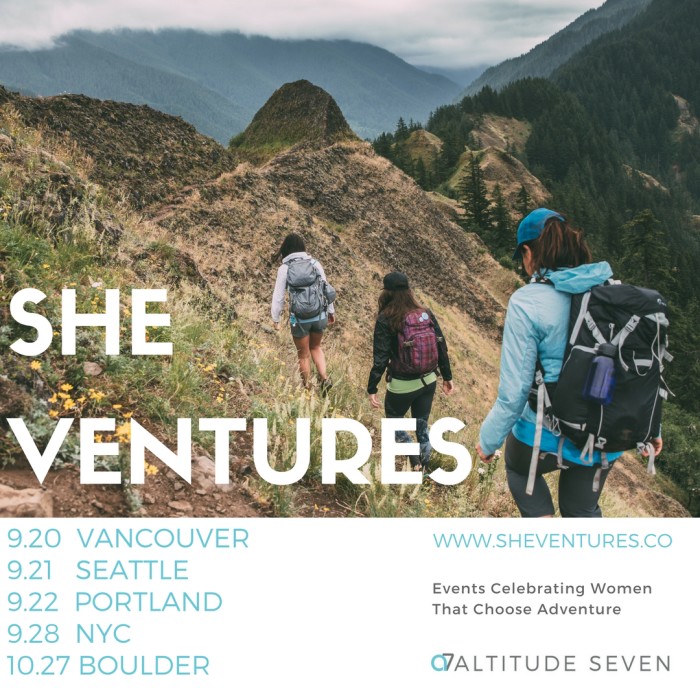 –Images courtesy of She Ventures